In Dubai Opera House: ESNCM Orchestra, Banat al-Quds and Soprano Zeina Barhoum
In Dubai Opera House
The ESNCM Orchestra, Daughters of Jerusalem and the opera singer Zeina Barhoum
Dubai welcomes the Edward Said National Conservatory of Music Orchestra, the Daughters of Jerusalem choir and ensemble, and the Opera singer Zaina Barhoum, for a special concert at the Dubai Opera House on April 20. They will perform works by major classical composers such as Rossini, Brahms and Puccini, as well as songs and pieces from Daughters of Jerusalem's latest album.
The ESNCM Orchestra comprises advanced students and teachers of the conservatory, and performs all over Palestine. Its programs combine classical Western repertoire with Arabic pieces arranged for the orchestra. The 55-member orchestra has become known for its presentation style, with students commonly introducing and discussing pieces from the stage. Participating in the Orchestra provides a first-rate training experience for young Palestinian musicians. The concert in Dubai will be preceded by 4 days of intensive rehearsals in Palestine and Dubai.
The Daughters of Jerusalem choir and ensemble is a 25-member all-girl group which represents Palestinian living culture in Jerusalem. The ensemble is conducted by Suhail Khoury, general director of the ESNCM. They released their first album, "Daughters of Jerusalem", in November 2018, which included a joint performance alongside the Norwegian Girls' Choir and the Princeton University Girls' Choir from the USA. They have performed extensively both locally and internationally, and in 2016 the group was named Best Regional Choir at the Dubai Choir Festival.
The Palestinian/Jordanian opera singer Zeina Barhoum will join the orchestra for this performance. Zaina began her musical career in 1997. She received private vocal coaching with Alberta Valentini, Walter Alberti and Tina Ruti. With the encouragement and patronage of Princess Muna Al-Hussein she launched the first opera festival in the Arab world, the Amman Opera Festival, in July 2017. As part of the festival, Verdi's La Traviata was performed in the 2000 year-old Roman Amphitheatre in Amman.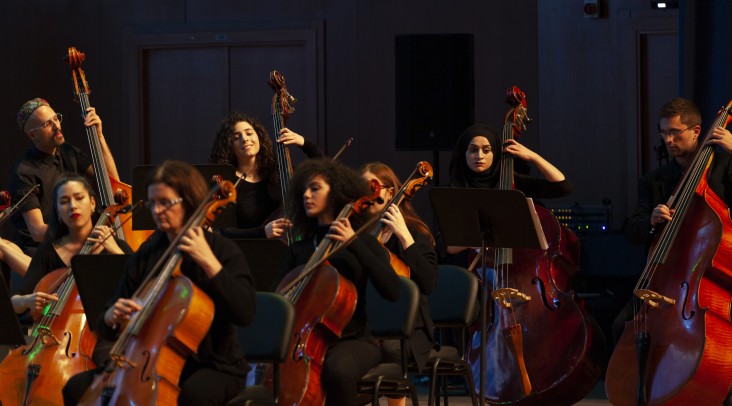 Date:
Saturday, April 20, 2019 - 20:00