'Fi Youm We Lila"
 The Edward Said National Conservatory of Music Arabic Music Ensem
      Present the Arab Algerian Singer Warda Al Jazairia
        In the Musical Concert
        'Fi Youm We Lila"
The Edward Said National Conservatory of Music participates in "Wen Ala Ramallah" festival through its Arabic Music Ensemble which includes some of its advanced students from Ramallah and Nablus in addition to some guests. The Ensemble will perform a special and distinguished musical concert "Fi Youm We Lila" commemorating the Arab singer Warda Al Jaza'iria, The repertoire includes a collection of beautiful songs for Warda and some of the greatest composers and poets in the Arab World.
Yacoub Hamouda, will lead the Ensemble during the concert following intensive rehearsals on the songs which were rearranged by him. Mr Hamouda is one of the distinguished Qanoun Teachers at Conservatory. He has a wide experience in music composition and arrangement. Some of the music albums he arranged include "Naqsh 2012", "Hazira" of El-Funoun Palestinian Dance Troupe 2014, "Ouf 2017", "Yalalan" Group 2018, and the musical supervision of "Aashiq" of Sareyyet Ramallah 2018. He also accompanied a number of famous artists such as Simon Shaheen, Saber Rubai and, Mohammed Assaf.
Members of the Arabic Ensemble:
Nadeem Khoury - percussion
Hamza Shakhshir - percussion
Ibrahim Masri - violin
Ahmad Sadouq - violin
Rashed Zarour - viola
Mohammad Sadouq - qanoun
Firas Aghbar - oud
Waseem AL-Shakhsheer - flute
Atiyah Qadri - contra bass
Fadi Rumman - keyboard 
Singers:
Mira 'abu hlal
Yumnaa 'abu hlal
lma 'abu hlal
lma 'abu hlal
Concert program:  
Aal Eih Beyesalouni .  Song lyrics: Mohammed Abdel Wahab,  Composer: Sayyed Mekkawi.
Aleuyun Alsuwd. Song lyrics: Mohammad Hamza, Compser Baligh Hamdi
Andah Alih. song lyrics:  Mohammad Hamza, composer:  Mohammed Abdel Wahab
Bieomri kloh habiyatak. song lyrics Hassien ALSayyed, composer: Mohammad Abdelwahab.
'Fi Youm We Lila. Song lyrics. Hassan ALSayed. , Composer Mohammad AbdelWahab.
Lola El Malama. Song lyrics:   Mohammed Abdel Wahab Composer: Baligh Hamdi
Wana Mali. Song lyrics. Mohammad Hamza. Composer:  Baligh Hamdi
Mustahil.. Song lyrics Mohammed Al Shinnawi. Composer Mohammed Al-Moji
Batwanis beek.. Song lyrics. Omar Battisha. composer. Salah Sharbouni.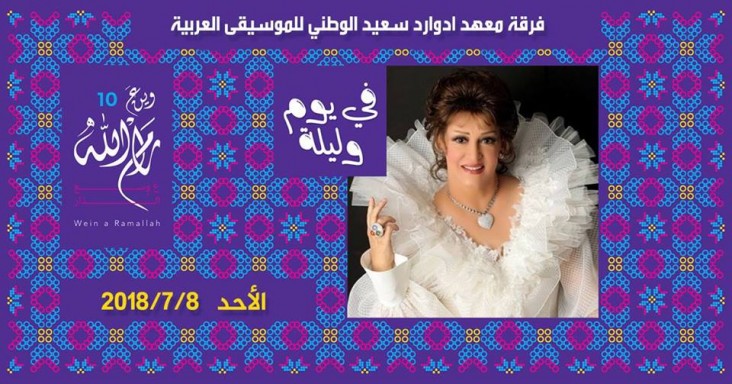 Date:
Thursday, July 12, 2018 - 08:30