Alumni
The Edward Said National Conservatory of Music is extremely proud of the achievements of its graduates and former students. Some are completing their music studies around the world; others have international careers as performing artists; many are living and working in Palestine, continuing the vital work of educating the next generation of musicians, manufacturing instruments or working in arts management, while performing and energizing the music scene around the country. Take a look at what some of the conservatory's alumni are doing now and how their careers have developed (and see what they looked like as students!).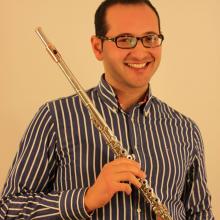 Ahmed Qatamesh
Ahmed Qatamesh studied flute at the ESNCM from 1998 – 2004, continuing his musical studies in the Lübeck Academy of Music in Germany and graduating with a diploma in Instrumental Pedagogy. He went on to complete a Master's degree in Culture and Media Management from the University of Music and Theater of Hamburg.
Ahmed won the ESNCM concerto competition in 2009, subsequently performing as a soloist with the ESNCM orchestra. He played principal flute in the Palestine Youth Orchestra from 2006 – 2011, and has been a member of the Palestine National Orchestra since its establishment in 2010.
In 2012 Ahmed founded the Baladi ensemble which specializes in baroque music, and he is currently responsible for managing, PR and fundraising, as well as performing with the ensemble. Ahmed teaches flute at the ESNCM Ramallah branch and is the Cultural Programme Coordinator for the Goethe-Institute in Ramallah. In 2016 he co-founded J & Q for Music Services in Ramallah, which specializes in the manufacter and repair of wind and brass instruments.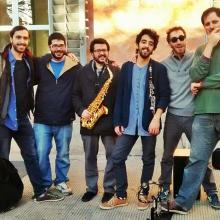 Al Raseef Band
Al Raseef Band is a dynamic street band that plays mostly wind instruments. It was founded in the summer of 2011 in Ramallah, Palestine and its members are all Alumni of the ESNCM. The band has participated in several local and regional festivals such as the Christmas Festival in Bethlehem, Al Taybeh Festival, Wein A Ramallah Festival and Palestine International Festival, as well as doing several concerts and tours all around Palestine. The band has also participated in the Palestinian National Music Competition, where they were awarded third prize for their performance in the ensemble section.
Currently, some of the original band members are pursuing their dreams in Italy, and have continued their journey together, all studying music professionally at the Conservatorio Statale di Musica Niccolò Paganini in the city of Genoa. Al Raseef is still performing actively in the streets of Italy. Its original members now studying in Italy are Midhat Husseini (tuba), Yassar Sa'adat (trombone), Tamer Nassar (saxophone) and Ayham Albess (clarinet).
Aref Sayyed
Aref was a violin student at the ESNCM for several periods, most recently 2003-2005. He subsequently traveled to Italy, where he trained at the Antonio Stradivari School of Violin Making in Cremona. He gained a diploma in violin making there, then continued to Germany, where he graduated from the University of Applied Sciences in Zwickau with a Bachelor's Degree in Musical Instrument Technology. He completed his studies with practical training at the Istanbul Technical University.

In May 2013, the instrument workshop was inaugurated in the Bethlehem branch of the ESNCM. Aref runs the workshop, where he manufactures violins, violas, cellos, ouds, qanouns and buzuqs. He also repairs and maintains all of those instruments as well as double basses and guitars.

The instrument workshop is open to the whole community, and Aref even repairs instruments from Gaza when transportation can be arranged. Aref also gives lecture-workshops, describing and demonstrating his work and educating others about proper care of string instruments.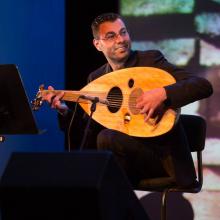 Charlie Rishmawi
Charlie Rishmawi is a Palestinian multi-instrumentalist, who was born in 1986 in Kuwait and raised in Bethlehem. Growing up, he developed a love for different musical genres, including many ethnic musics, classical, jazz, and contemporary music. He started to play the piano at the age of 11. In 1998, after the opening of ESNCM Bethlehem branch, he joined as a flute student. After spending several years learning the classical repertoire, Charlie started to play Arabic and Mediterranean music on the flute. Subsequently he started oud classes in 2005, graduating from the ESNCM in 2008.
Charlie has performed in many international festivals with different bands as a bass, guitar, buzuk, flute and oud player. After his graduation from the ESNCM in Bethlehem, he worked as a music instructor in The Dhow Countries Academy of Zanzibar, Africa, for two years. Charlie has composed soundtracks for local and international movies and is currently working as a freelance music tutor and music arranger in several studios. In 2016 he established the SOUL Musicians' Hub and bar in Beit Sahour, where artists meet, talk, jam, improvise, read, and listen to recordings, and where music classes are also offered, including Spanish Guitar, Oud, Greek Bouzouki and Qanoun.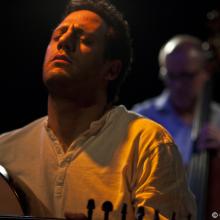 Issa Murad
Issa Murad studied oud at the ESNCM from 1999 to 2002, winning the first prize in the Marcel Khalife Music Competition (now the Palestine National Music Competition) in 2001 before continuing his musical studies with Naseer Shamma in Cairo from 2003 - 2005. He returned to Palestine in 2005, teaching oud, ensemble playing and classical Oriental voice at the ESNCM and other music schools, and in 2007 he moved to Paris, where he completed a Masters degree in Ethnomusicology from the Sorbonne University in 2010.
From 2010-2012 he was the artistic director of the "Balk'Or" project at the Sorbonne University, which brought together musicians from Balkan, Turkish and Arab traditions in artistic residencies. As well as giving private oud lessons in Paris, Issa has worked in schools teaching Oriental singing to French children, and has given oud masterclasses as part of the "Diwan" project in Brittany.
Since September 2014 he has been an Oriental Music and Musicology professor at the American University of Cairo (AUC). His current performance projects include the "Joussour" project, which fuses jazz, Oriental and Indian music and performs Issa's own compositions; the "Hiwar" project, consisting of oud, percussion and Indian bansuri flute; Trio Safar (oud, violin, percussion), which plays classical Arabic repertoire; and performances with the Marie Keyrouz band and the Al Adwar ensemble, playing music from the Arab renaissance and Sufi tradition.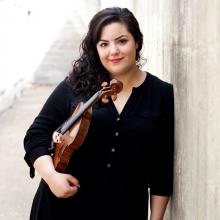 Jenna Barghouti
Jenna started taking violin lessons at the ESNCM in 1999 at the age of 7, and graduated in 2008. She served as concertmaster of the Palestine Youth Orchestra at the age of 15 and has been involved with multiple projects organized by the ESNCM throughout the years, including playing with the Palestine National Orchestra. She won the first prize in her age category in the string section of the Palestine National Music Competition in 2003, 2005, 2007 and 2009.
Jenna is currently pursuing a Performer's Diploma in violin performance at the Indiana University Jacobs School of Music, where she studies with Jorja Fleezanis. She received her undergraduate degree in violin performance from the same school in May, 2014. Jenna has served as concertmaster of the school's Philharmonic, Chamber, and University Orchestras. She is currently a substitute for the Philadelphia Orchestra and The St. Louis Orchestra.
Jenna is the first violinist of the Azalea Quartet, which formed in September 2013 and is currently the "Kuttner" quartet-in-residence at Indiana University. The Azalea Quartet won the Beethoven-haus residency competition, and as a result traveled to Bonn, Germany in March, 2015, for a one-week residency that was concluded with a performance at the Beethoven-haus. The Azalea Quartet was recently awarded the grand prize at the Coleman Chamber Ensemble Competition, in April, 2015. The quartet will be attending the Aspen Music Festival in summer 2015 as one of the two quartets chosen to participate in the Center of Advanced Quartet Studies.
Jenna has attended multiple music festivals, including Music Academy of the West in the summer of 2014, where she served as principal second for the Music Academy Festival Orchestra and was a finalist for the New York Philharmonic Global Academy audition. In addition to her orchestra and chamber music interests, Jenna loves teaching the violin at the pre-college level. She is currently the Associate Instructor at the Indiana University pre-college String Academy.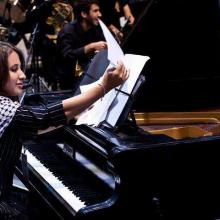 Mira Abu Al-Zuluf
Mira studied piano at the ESNCM Bethlehem branch from 2005 – 2011, during which time she won 1st prize in her age category in the piano section of the biennial Palestine National Music Competition (2008 and 2010), as well as 1st prize in the Carlo Tavasani Piano Competition in 2009. She participated in the Palestine Youth Orchestra in 2008, 2009 and 2010. From 2011 – 2014 she continued her musical education in Toulouse, France, where she gained a diploma in piano performance.
Since 2014 she has been living and working in Palestine, where she teaches piano at the ESNCM branches in Bethlehem and Ramallah and on the outreach program in Hebron. In January 2015 she recorded two tracks for an album of piano pieces by Palestinian Composers, playing her own composition "Recreation of Utopia" and a piece by the Palestinian composer Habib Touma entitled "Maqam for Natalie".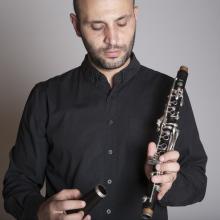 Mohamed Najem
Born in Jerusalem and raised in Bethlehem, Mohamed started to study clarinet in 1997 at the Edward Said National Conservatory of Music. In 2006, he obtained a scholarship to complete his studies at the Regional Conservatory of Music of Angers in France, with Professor Emilie Jacquin.In 2011, Mohamed returned to Palestine, and taught clarinet and nay at the ESNCM in Ramallah, Nablus, and Bethlehem for three years. He was also the academic supervisor of the ESNCM Ramallah branch and the head of the winds section between 2011 and 2014.
Mohamed is a founding member of the Palestine National Orchestra, Palestine's first professional orchestra created in 2011. He has played as a soloist for the Palestinian Youth Orchestra for several years. A versatile performer in demand in Palestine, he has performed and recorded with several Palestinian and international music groups and projects, including traditional, popular and classical ensembles, played in local and international festivals. Mohamed uses classical techniques and Arabic interpretations, and thus creates an original sound and style on the clarinet. His compositions reflect an eclectic combination of rhythms and melodies.
Mohamed released his first solo album, "Floor No. 4", in 2015. Today, Mohamed is a freelance musician and resides in Paris.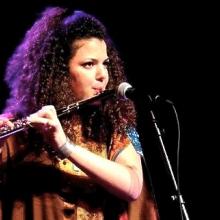 Nai Barghouti
Nai Barghouti is a singer, flute player, and composer. She launched her professional singing career in 2011, at the age of 14, with Munyati, a full program of classical Arabic songs of the tarab genre. She performed Munyati in sold-out concerts in Cairo, Kuwait and several Palestinian cities, including Jerusalem, Ramallah, Acre, Bethlehem, Haifa and Nazareth, as well as in Beirut accompanied by the Lebanese oud virtuoso, Charbel Rouhana.
Also at 14, Nai completed her classical music studies in flute performance at the Edward Said National Conservatory of Music. During her course of study there, she discovered a passion for composition and started expressing her feelings towards the oppression of her people in music. Four of her earliest flute solo compositions have become part of the flute curriculum at the International Institute of Iberian Music in Valencia, Spain.
Nai won several woodwind and vocal performance awards in Palestine. She also joined the Palestine Youth Orchestra in 2013 as principal flute. In 2008, she performed at UNESCO (Paris headquarters) in a concert that featured June Anderson, among others. Nai also sang and played the flute at the Paris International Jazz Festival in 2010, as part of the ESNCM's Maqamat al-Quds Arabic music ensemble. Nai performed at the United Nations headquarters in New York in November 2013 on the occasion of the International Day of Solidarity with the Palestinian People.
Nai is currently pursuing an undergraduate degree in Jazz performance, focusing on jazz voice, at the Indiana University Jacobs School of Music.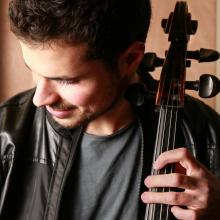 Naseem Alatrash
An accomplished classically trained musician and improviser of diverse styles; Naseem has earned a reputation for fearlessly broadening the horizons of the cello on the world stage. Born and raised in Palestine he began his cello studies at age 12 at The Edward Said National Conservatory of Music. After finishing his studies in Palestine, Naseem was awarded a full scholarship to attend Berklee College of Music, in Boston US. Where he went on to achieve the highest honors for a BMus in cello performance. At Berklee he studied with cellists Eugene Friesen and Owen Young, as well as Rob Thomas and Simon Shaheen.
A soloist, recording musician, chamber musician, and teacher, Naseem continues his global performance career. Naseem has performed at The Nancy Jazz Festival, Lebanon's Beit Aldeen Festival, Jerash Festival, The Kennedy Center, Wigmore Hall, Kennedy Center, and within the Aldeburgh World Orchestra's London Olympic tour appearing at The BBC Proms in The Royal Albert Hall and at Amsterdam's Concertgebouw. Naseem has enjoyed performances alongside Ron Carter, Simon Shaheen, Leo Blanco, Javier Limon, Cafe De Silva, Jorje Drexler and for Alejandro Sanz at the Latin Grammy Awards in 2013. In 2016 he was awarded a full scholarship to attend the Berklee Global Jazz Masters program in Boston.
Twice awarded the first prize for string playing in The Palestine National Music Competition, Naseem continues to be a voice for Palestinian culture and an advocate of its music through his global string quartet The Four Corners Quartet.
Ramzi Shomali
Ramzi began his formal piano training at the age of 5. Some years later, he enrolled at the Bethlehem branch of the ESNCM, and gave his first solo concert at the age of 13. He completed his intermediate level music studies in 2008. His journey continued in Italy where he graduated from Vicenza Conservatory of Music obtaining the first academic Diploma with honors under the guidance of Prof. Antonio Rigobello, and the second academic Diploma in Piano Performance with Prof. Riccardo Zadra. He is currently working on a second diploma in Chamber Music which will be completed in July, 2015. Ramzi has also received special training under the patronage of several renowned pianists: Daniel Del Pino, Saleem Abboud-Ashkar, Lucille Chung and Alessio Bax, Filippo Gamba, Aleksandr Madzar, Roberto Prosseda, and the late Aldo Ciccolini, among others. He also attended a formative orchestral conducting course given by the Italian conductor Giancarlo Andretta.
He has won many awards locally and abroad, including the 1st Prize of the Carlo Tavasani Piano Competition, Jerusalem, in 2000 and 2007; 1st Prize of the ESNCM Piano competition, Ramallah 2005, and 2nd Prize (first was not awarded) of the Palestine National Music Competition, Jerusalem, 2006. In Vicenza, he won second prizes at 'Premio Dal Corno', in 2010 and 'Premio Amici del Conservatorio' for chamber groups in 2013. In January 2012 he debuted with Vicenza Conservatory of Music Symphonic orchestra, performing Chopin Concerto Op.21.
Ramzi has given solo concerts in Chicago (Lewis University 2003), Bethlehem (International Center 2005), Jerusalem (French Consulate 2006), Paris (Conservatoire de Sarcelles 2012), also in many Italian cities including Vicenza, Crema and Como. He participated in several festivals including Festival de Piano d'Enghien les Bains as soloist (Paris, 2005), Camera Ensemble del Conservatorio Festival as a duo (Feltre, Italy 2014) and Evmelia International Festival with soprano Dominika Zamara (Volos, Greece, 2014). He also participated in fundraising concerts in Genève, with Saleem Abboud-Ashkar (2008), and in London, Cadogan Hall, with the Palestinian soprano Dima Bawab and English Chamber Orchestra (2009)
Looking for a greater challenge in different parts of Europe, the Middle East and America, Ramzi is about to take another leap in his journey as he begins his professional performance career.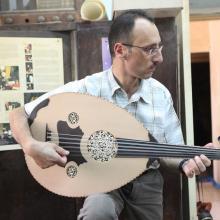 Samer Totah
Samer Totah was an oud student at the Ramallah branch of the ESNCM from its foundation in 1993 until the year 2000, when he became one of the first graduates of the conservatory. He started teaching oud at the conservatory soon afterwards, and then spent two years working in the Dhow Countries Music Academy in Zanzibar from 2007 – 2009. Samer developed an interest in musical instrument manufacture, and after attending a training workshop with the famous Turkish oud maker Faruk Türnüz, Samer opened his own instrument workshop from his home in Ramallah, where he makes ouds, buzuqs and violins, as well as fixing and restoring string instruments.
In 2005 Samer formed the band "Ghoufran", and released an album with the same name. Samer also teaches oud at the Ramallah branch of the ESNCM, and established the student/teacher ensemble, Turath, in 2006. Samer has also given intensive workshops to students in the Qatar Music Academy in 2013 and 2014.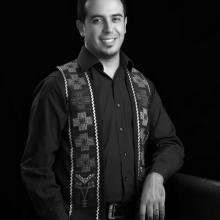 Tamer Sahouri
Tamer Sahouri was born in 1987, and started learning the oud at the ESNCM in 2000, graduating with distinction in 2009. He also graduated from Bethlehem University with a BA in Business Administration. He now teaches oud at the ESNCM's branch in Bethlehem and on its outreach program in Hebron.
Tamer has performed in masterclasses and workshops with some of the world's leading oud players, including Simon Shaheen, Ahmad Al Khatib, Charbel Rouhana, Khaled Mohammed Ali, Ali Jihad Racy, Jamal Abeid and others. He has participated in many local and international festivals, in Europe, Africa, North and South America and the Middle East, including with the Palestine Youth Orchestra in Greece and Jordan; at the Tree of Life conference in the USA every year from 2011 – 2014; and at the Sousse Festival in Tunisia in 2012.
Tamer established Wajd band, (named after his friend, the young Palestinian saxophonist Wajd Zarour, who died tragically in 2008) at Bethlehem University in 2009, and has coached the band and led it to performances around the world. He also formed the Jilan student Arabic music ensemble at the ESNCM in 2012. He is currently working on his first solo album, where he presents some of his own compositions.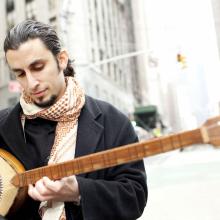 Tareq Abboushi
Tareq Abboushi is a multi-instrumentalist, composer and bandleader. Born and raised in Ramallah, Palestine, he studied piano at the ESNCM from 1993-1995 and from 1998 - 2000, before completing his formal musical education at William Paterson University in New Jersey, where he graduated with honors in Jazz Piano Performance.

Tareq has been playing Buzuq since 1997, performing and touring with numerous bands throughout the US, Canada, the Middle East, and North Africa. Collaborations have included such notable musicians as Simon Shaheen, Lotfi Bouchnak, Sonia M'barek, Billy Drewes, Omar Farouk Tekbilek, and Dan Zanes.

As a recording artist, his discography includes two albums with his group SHUSMO, four albums with Dan Zanes, two with Amir ElSaffar, and numerous film soundtracks including: "Encounter Point"- best musical score 2006 Bend Film Festival; "Chicken Heads"- best short film 2010 Dubai Film Festival; "Man From Plains," and the Oscar-nominated "Rachel Getting Married," directed by Jonathan Demme. His composition "Pickles" won an award in the Palestine National Music Competition, and the United States awarded him citizenship as an artist of extraordinary ability.

As a teacher, his career involves lectures and workshops at Columbia University, NYU, Juilliard, Museum of the City of NY, the Children's Museums of Brooklyn and Manhattan, and Bahrain's Spring of Culture Festival. For the academic year of 2008/09, Tareq taught at Agder University and Music Conservatory in Norway. He currently teaches at the Edward Said National Conservatory of Music.
Yacoub Hammodeh
A musician and teacher at the Edward Said National Conservatory of Music, Yacoub studied at the ESNCM from before continuing his musical education at the Higher Institute of Music in Tunisia, where he graduated with a Bachelor's degree in Music and a qanoun teaching certificate. He then completed his Master's degree in Music and Music Education at the University of Jordan.
Yacoub is a composer and arranger as well as a qanoun performer on Palestinian and international stages. He has performed with the Palestine Youth Orchestra/Collegium Musicum Orchestra of Bonn University; Saber Rebai, Lutfi Bushnaq, Ayman Tayseer, Simon Shaheen, Dalal Abu Amneh and several Sufi ensembles in Tunisia.
He has arranged music for several projects and albums, including the debut album of the Naqsh ensemble in 2012, the music of Wardeh al-Jaza'eriyyeh for the first anniversary of her death in 2013, and the new album by the Palestinian Popular Arts Troupe in 2014.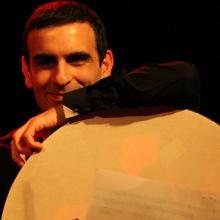 Yousef Zayed
Yousef studied oriental percussion at the ESNCM under the tutelage of Youssef Hbeisch, graduating in 2003. He received his Bachelor's degree in Media from Birzeit University in 2004. Yousef spent several years teaching and performing in Palestine, working with the ESNCM and other cultural and educational organizations, until 2009 when he moved to France. He gained a High Diploma in Musical Analysis and a 3rd cycle Diploma in Western Percussion from the regional conservatoire of Genevilliers.
Yousef has performed with many ensembles on the Palestinian and International stage, both as a percussionist and as an oud player, including with Khaled Jubran, Basel Zayed, Ahmad Al Khatib, Issa Bolous, Nawa, Turab, Karloma, Awj, The Oriental Music Ensemble, the Palestine Youth Orchestra, Samer Totah, Lena Chamamyan, Elie Ma'alouf Jazz Quintet, Le Trio Joubran, Samih Choukaer, Abed Azrie, Wassim Qassis, Jameel Al-Sayeh, Sabreen, Smadj, Beit Al Musica Group , Yasmine, Al Funoun Folk Dance Group and First Ramallah Group for Music and Dance. Yousef is also highly experienced as a sound editor.