Outreach Program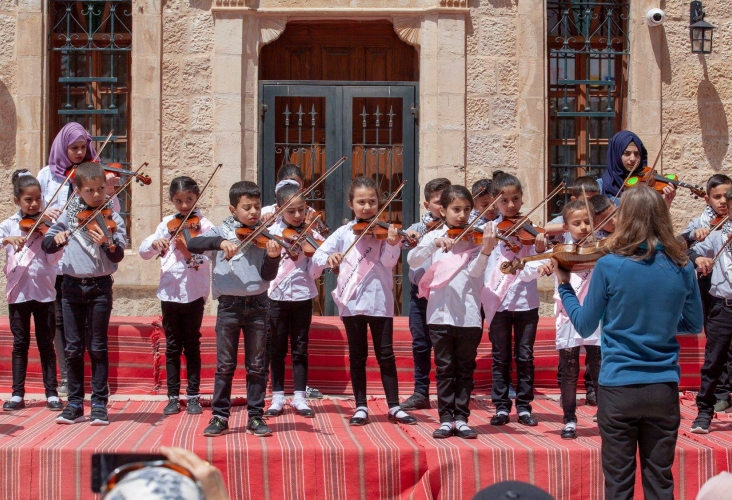 The outreach program was established by the ESNCM in 1996, in order to reach a wider section of Palestinian society, and to enable underprivileged children to learn music by bringing music into their own environment. Musical instruments are provided free of charge and students are involved in group musical activities as well as individual lessons. The first programs involved children from refugee camp schools who had never had the privilege of music education. In 1998 the outreach program became more active when the ESNCM delegated a number of its teachers to give violin and cello lessons at Rawdat al-Zuhour School in Jerusalem and at al-Bireh Girls School, teaching music to children from the age of 6 to 16 years.

Over the years, the scheme has expanded and evolved. Participants have included Rawdat al-Zuhour School, al-Jalazoun UNRWA Girls School, al-Amari UNRWA Girls School, Ramallah Primary UNRWA Girls School, Talitakumi School in Beit Jala, al-Azza refugee camp, the "Intima'a" Social Youth Center of Askar Camp in Nablus, the Jericho Children's Center and two primary schools in Jouret Al-Shama'a village (Bethlehem governorate) and in Douma (Hebron governorate). By 2007, a total of 163 students were part of the outreach program. Cooperation started with two new centers in the Tubas Governorate in 2009, with a 36 student enrollment, and in Bidya in Salfeet governorate, with 28 students, in addition to a center in Nelein, in the Ramallah governate, with 36 students recruited after a 4-day workshop. In summer 2010, the program started in Hebron in cooperation with two community centers, after a 4 day workshop with 60 participants.
The Outreach Program in the academic year 2018/19 year serves a total of 800 children, including projects in Jerusalem, Nablus and Gaza.
In Nablus, the municipal library of Beit Furik hosts the ESNCM outreach program, where 20 students learn strings, oud, percussion or choir in group lessons. Beit Furik is a small town 9 km southeast of the city of Nablus.
In Gaza the outreach program includes 12 choirs run in ten UNRWA schools and two other Gaza city schools. Geographically the school choirs represent a wide span of the Gaza Strip including the different areas of Gaza city, al-Maghazi, Deir al-Balah, Khan Younis and Rafah. This year around 400 students sing in the choirs, which meet on a weekly basis to rehearse.
In addition the ESNCM in Gaza runs three different group instrumental projects as part of the outreach program. Three community centers host the outreach project, where 30 students learn oud, classical guitar or violin. The partner centers are Nawa for Culture and Arts Association in Deir al-Balah; the Institute for Multiple Intelligences at the Riyad School in Rafah; and the Qattan Center for the Child in Gaza City.
In Jerusalem, the ESNCM outreach program is a cornerstone of the work of the branch, and focuses on three musical activities: choirs, group string lessons and group percussion lessons. The choirs are run under the ESNCM's "Palestine Sings" project, which aims to bring music and musical culture into every Palestinian home. Ten choirs, consisting of between 10 and 25 members, hold weekly rehearsals in schools and community centers in different areas of Jerusalem including Wadi Joz, Shufat, the Old City and al-Ram. Around 180 young people are taking part in the choirs during this academic year. Another 170 children are taking part in the string and percussion programs, where instruments and group lessons are provided in ten schools and centers, including in a women's center in the Shufat refugee camp, the Jerusalemite Youth Heritage Forum in Silwan, and a center for the Afro-Palestinian community in the Old City. All activities in the outreach program are free to students.