Outreach Program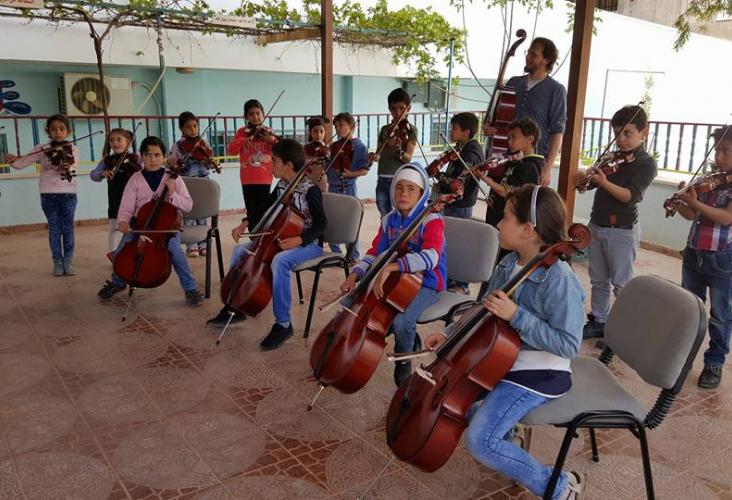 The outreach program was established by the ESNCM in 1996, in order to reach a wider section of Palestinian society, and to enable underprivileged children to learn music by bringing music into their own environment. Musical instruments are provided free of charge and students are involved in group musical activities as well as individual lessons. The first programs involved children from refugee camp schools who had never had the privilege of music education. In 1998 the outreach program became more active when the ESNCM delegated a number of its teachers to give violin and cello lessons at Rawdat al-Zuhour School in Jerusalem and at al-Bireh Girls School, teaching music to children from the age of 6 to 16 years.

Over the years, the scheme has expanded and evolved. Participants have included Rawdat al-Zuhour School, al-Jalazoun UNRWA Girls School, al-Amari UNRWA Girls School, Ramallah Primary UNRWA Girls School, Talitakumi School in Beit Jala, al-Azza refugee camp, the "Intima'a" Social Youth Center of Askar Camp in Nablus, the Jericho Children's Center and two primary schools in Jouret Al-Shama'a village (Bethlehem governorate) and in Douma (Hebron governorate). By 2007, a total of 163 students were part of the outreach program. Cooperation started with two new centers in the Tubas Governorate in 2009, with a 36 student enrollment, and in Bidya in Salfeet governorate, with 28 students, in addition to a center in Nelein, in the Ramallah governate, with 36 students recruited after a 4-day workshop. In summer 2010, the program started in Hebron in cooperation with two community centers, after a 4 day workshop with 60 participants.
Currently, around 600 children benefit from the outreach and choirs programs in the Old City of Jerusalem, Hebron, and the refugee camps of Shu'fat, Dheisheh, and Aqbet Jabr.
In
Jerusalem
, ESNCM works in
al-Saraya Center
in the Old City, where it runs a choir and a group percussion class. ESNCM also works in four Jerusalem schools through the
Madrasati Palestine
initiative of Queen Rania, where it runs nine choirs, targeting 3rd and 4th grade students. In addition the conservatory runs a choir at the Rawdat al-Zuhour school.
In Hebron, the ESNCM runs its regular academic program in the Palestinian Child's Home Club. This program is on track to be incorporated as an official branch of the ESNCM in the future. In the 2015 - 2016 academic year 60 students participated in this program, completing instrumental exams and theoretical courses.

In the refugee camps of Shu'fat (Jerusalem), Dheisheh (Bethlehem), and Aqbet Jaber (Jericho), the ESNCM runs a strings program, where students receive group string instrument lessons, Students from this program took part in a joint ensemble performance in the Nasib Shaheen Auditorium in 2016. In Dheisheh camp the outreach program also includes qanoun teaching.