The ESNCM Wind Band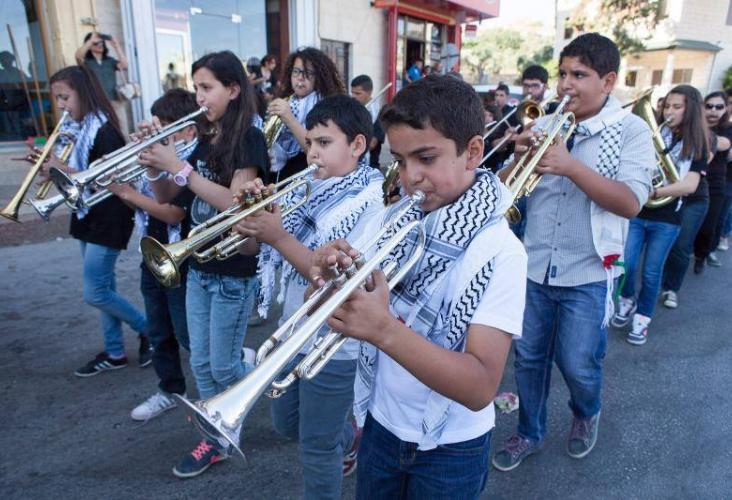 The ESNCM Wind Band was established during an ESNCM winter camp in Jericho in 2005. Since then it has grown in size to include around 50 members. The band is directed by brass and woodwind tutors from the ESNCM, and the musicians meet in smaller groups for regular weekly rehearsals at the branches of the ESNCM, and then come together for occasional residential workshops focusing on tailored concert programs. The Wind Band performs concerts around Palestine. Their repertoire includes music composed specifically for wind band, as well as film music, arrangements of pop music, ceremonial music and arrangements of Arabic music and songs. The Wind Band also performs outdoors as the Palestine Marching Band, which debuted on the streets of Birzeit in 2013 after a summer camp rehearsal schedule. Music educator and marching band expert Carol Frierson-Campbell from William Paterson University in New Jersey, a long-term associate of the ESNCM, lent her expertise to the launch, which was led by ESNCM teacher Katie Rowold.
The band includes all the woodwind instruments: flutes, oboes, clarinets, bassoons, and saxophones, and a large brass section of trumpets, French horns, tenor and baritone horns, trombones and tuba. In concert, the musicians are often joined by percussionists from the ESNCM and a rhythm section of piano and bass.
All enquiries regarding the ESNCM Wind Band should be directed to Ms. Zeina Khoury- Orchestra Manager: zkhoury@ncm.birzeit.edu, +972 (0)2-281-9156.
Concerts
ESNCM Ensembles Concert 2016
| | |
| --- | --- |
| Nasib Shaheen Auditorium - Birzeit University | |
| | |
| --- | --- |
| | |
| | |
| | |
| Klauz Badelt, arr. Michael Sweeney | |
2014, Marching Band
| | |
| --- | --- |
| ESNCM Branch, Ramallah (Activities Week Project) | |
2013, Marching Band Launch