Palestine Strings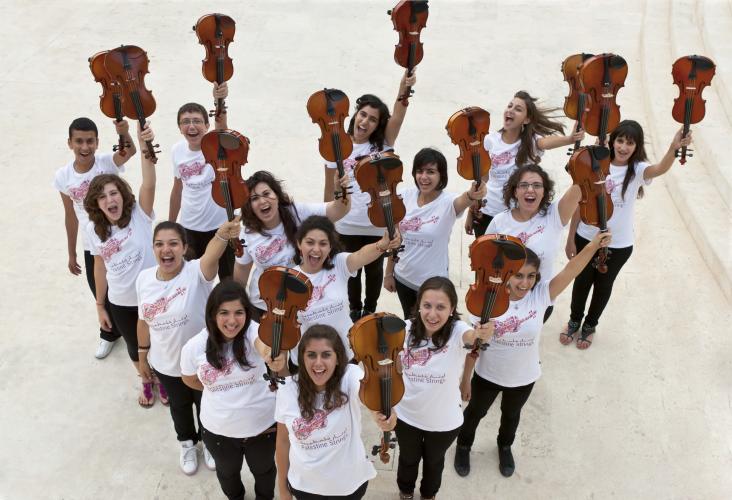 'Based in the Edward Said Conservatory of Music, these players ... are now leading the cultural renaissance in Palestine ...'
The Independent, August 2013
'The Palestinians rose to their feet as individual soloists improvising (and in one case singing), haunting Arabic melodies. With three big Palestinian flags being waved in the Albert Hall Arena, it was as if the music of 18th century Venice had been transported 1500 miles East.'
The Times, August 2013
'Together, they turned Vivaldi's Four Seasons into a groovy magical mystery tour'
The Telegraph, 9th August 2013
The Palestine Strings was launched in 2009 as a fifteen to twenty-member ensemble of young students of violin and viola. The first performances were choreographed and led by the Swedish violinist Eva Bogren, and the Palestine Strings were soon in the limelight, performing a nationwide tour of the USA in 2011. The ensemble took a new direction when it was invited to accompany renowned English violinist Nigel Kennedy in performances of Vivaldi's Summer and his own compositions at the Yabous Festival in East Jerusalem in 2012. The Palestine Strings gained international attention in 2013, when, as a full string orchestra, they performed Vivaldi's Four Seasons at the Albert Hall with Nigel Kennedy at the BBC Proms, to critical acclaim in the British press.
All enquiries regarding musical repertoire, performances, collaborations and exchanges with other musical institutions should be directed to Ms. Zeina Khoury- Orchestra Manager:
zkhoury@ncm.birzeit.edu
, +972 (0)2—2819156.
Concerts
ESNCM Ensembles Concert 2016
| | |
| --- | --- |
| Nasib Shaheen Auditorium - Birzeit University | |
Conductor:
Liesbeth Debruyne
BBC Proms, London
Soloists:
Nigel Kennedy, Violin, Gwilym Simcock, Piano , Yaron Stavi, Bass , Krzyzstof Dziedzic, Drums, With members of The Orchestra of Life
| | |
| --- | --- |
| | The Four Seasons, Op. 8 (complete) |
The Jerusalem Festival
| | |
| --- | --- |
| The Jerusalem Festival (Yabous) | |
Soloists:
Nigel Kennedy, Violin, Featuring members of the Nigel Kennedy Quartet
| | |
| --- | --- |
| | Summer, from The Four Seasons, Op. 8 |
Palestine and USA Tour, 2011
| | |
| --- | --- |
| William Paterson University, New Jersey, USA | |
| Bayside Performing Arts Center, San Mateo, USA | |
| The Florida Theater, Jacksonville, USA | |
| George Mason University, Fairfax, USA | |
| Ford Community and Performing Arts Center, Michigan, USA | |
| Cullen Performance Hall, Houston, USA | |
| The Peace Center, Bethlehem, Palestine | |
| The Friends School, Ramallah, Palestine | |
Traditional music from around the world