The ESNCM Orchestra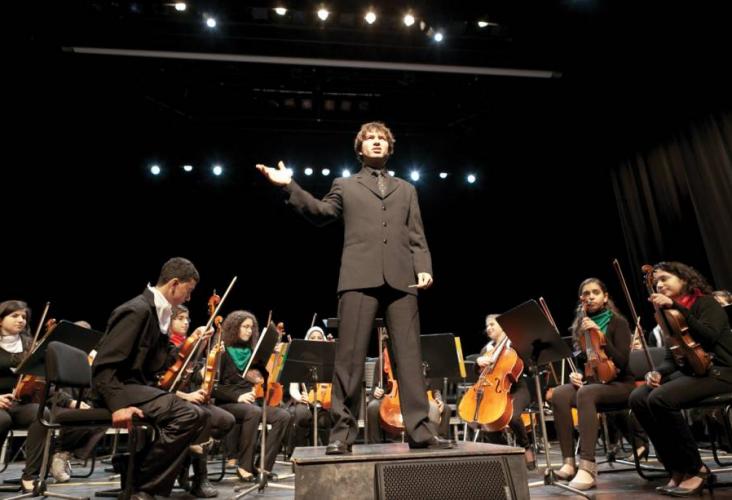 The ESNCM Orchestra comprises current and former students, teachers and friends of the ESNCM, and guest students from other music institutions. The orchestra gave its first performance at the Friends' Boys School, Ramallah, in May 2004. From humble origins it has developed into a 75-member ensemble. The orchestra delivers diverse programmes of orchestral music to local audiences, and the music is often introduced and discussed from the podium or from the stage by the students. Participating in the Orchestra provides a first-rate training experience for young Palestinian musicians.
The orchestra's programmes include arrangements of traditional Arabic music, alongside music by the greats of classical music. Highlights have included the annual Nativity Church concert in Bethlehem (broadcast internationally on television), a performance of the Requiem mass by Gabriel Fauré in collaboration with the Jerusalem Chorus, events staged by Unicef and UNDP, the first orchestral concert in Hebron, and a concert performance in Dubai. The annual ESNCM Concerto Competition provides advanced students with the opportunity to perform a concerto with the ESNCM Orchestra in its Spring performance.
To be eligible for participation in the orchestra, students must normally have reached at least level 6 standard (ABRSM / ESNCM) on an orchestral instrument.
All enquiries regarding the ESNCM Orchestra should be directed to Ms. Zeina Khoury- Orchestra Manager: zkhoury@ncm.birzeit.edu, +970-2-281-9156.
Concerts
February 2017
| | |
| --- | --- |
| Naseeb Azeez Shaheen Auditorium, Birzeit University | |
Soloists:
Rand Khoury - cello, Tala Akkawi - guitar, Hiba Tahhan - French Horn
| | |
| --- | --- |
| | Unfinished Symphony (1st movt) |
| | Cello Concerto in C Major (1st movt) - Soloist Rand Khoury |
| | Fantasia para un gentilhombre (2nd movt)- Soloist Tala Akkawi |
| Al-Qasabji, arr. Øystein Bru Frantzen | |
| | Horn Concerto no.3 KV 447 (3rd movt) - Soloist Hiba Tahhan |
| | |
| Traditional, arr. Øystein Bru Frantzen | |
ESNCM Ensembles Concert 2016
| | |
| --- | --- |
| Nasib Shaheen Auditorium - Birzeit University | |
Soloists:
The Palestine Girls' Choir
| | |
| --- | --- |
| Words by Wadi' Deeb, Music by Salvador Arnita, arr. Oystein Bru Frantzen | Birzeit University Anthem |
| Words by Marouf al-Rasafi, Music by Salvador Arnita, arr. Mathilde Vittu | |
| Words by Iskandar al-Khoury, Music by Salvador Arnita | |
| Words by Fouad Srouji, Music by Suhail Khoury, arr. Kjetil Bjerkestrand | |
ESNCMO with PNO, Palestine 2016
| | |
| --- | --- |
| Bethlehem Convention Palace | |
| Al-Najah National University Auditorium, Nablus | |
| Naseeb Aziz Shaheen Auditorium / Birzeit University | |
Soloists:
Mohamed Najem, clarinet, Dima Bawab (soprano)
| | |
| --- | --- |
| | Overture to Suite "à Jean Huré" |
| | O mio babbino caro from "Gianni Schicchi" |
| | Quando m'en vo from "La Bohème" |
| | |
| | Images of Palestine, from Suite no. 4 "Oriental Sketches" |
| | |
| | |
2014
| | |
| --- | --- |
| | |
| Ramallah Cultural Palace (In collaboration with Concordia College Orchestra) | |
| Bethlehem Convention Palace (In collaboration with Concordia College Orchestra) | |
| ESNCM Branch Hall, Ramallah | |
Conductor:
Mathilde Vittu