Al-Fawanees Musical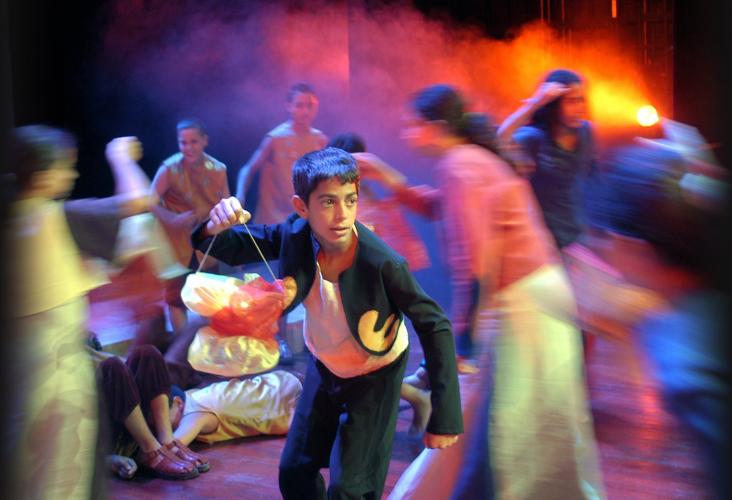 Based on Ghassan Kanafani's book, Al-Qandeel Al-Saghir, Al-Fawanees is a musical by Suhail Khoury, which ESNCM produced and performed in 2004. Kanafani, whose vision and writings inspired thousands to create and dream, wrote and illustrated this first children's novel for his niece Lamees whom he adored for one of her birthdays, before the two of them were the target of an Israeli assassination in Beirut in 1972, where both their lives were forever immortalized.
The idea to turn the book into a musical came in the early 1990s, when a group of artists got together and brain-stormed about the idea of producing a musical in Palestine for children. During the meeting, Serene Huleileh suggested the name of the book, and it being the first children's novel by the legendry Ghassan Kanafani, the idea was immediately adopted. A short time later, Wasim Kurdi, a poet and writer residing in Ramallah, came back with the lyrics and script for the musical. Work on Al-Fawanees was delayed due to the political situation, and it was not until several years later that the project was reinitiated by Suhail Khoury as a project of the Edward Said National Conservatory of Music. Khoury composed the 28 songs for the play, and ESNCM commenced on its production.
The al-Fawanees project was mammoth, stretching over two years and resulting in 7 live performances, a CD and a DVD. The work on the production received a major boost after securing funds from various parties including the EU, NORAD, SIDA, DIAKONIA, The French Consulate, The Goethe Institute and the National Beverage Company. A team of local and international professional artists were engaged by the ESNCM to make the musical come to life. These included Fernado Nope from Sweden as director, Philip Andrieux from France as Light designer, and Palestinian artists Edward Mualem as assistant director, Majed Zbeidi as set designer, Hamada Atallah as costume designer, Issam Murad as sound engineer and Bishara Khell as orchestrator.
The cast was made up of 60 boys and girls aged 8 –15 chosen by audition out of about 500 candidates from the schools of Jerusalem, Ramallah and Bethlehem. The cast went through seven training camps with a total of more than 350 hours of training in singing, acting and dancing, braving the often dangerous situation and travel restrictions during the height of the second Intifada. Involved in these training sessions were many artists including Hania Soudah Sabbarah as choir conductor, Inas Masalha and Reem Talhami as voice teachers, as well as many others. The show was performed with live music by the "Young Forum of Central Europe" Orchestra, conducted by Christoph Altstaedt with the participation of several Palestinian musicians on Arabic instruments.
The performances were held at the newly-inaugurated Ramallah Cultural Palace, and were all sold out to its 736-seat capacity. The ESNCM organized transportation for audience members to attend from all over Palestine. The seven performances took place on the following dates:
Friday, August 6, 2004, 6.00 p.m.
Saturday, August 7, 2004, 6.00 p.m.
Sunday, August 8, 2004, 6.00 p.m.
Thursday, August 12, 2004, 5.00 p.m.
Friday, August 13, 2004, 5.00 p.m.
Saturday, August 14, 2004, 5.00 p.m.
Sunday August 15, 2004, 1.00 p.m.

Al-Qandeel Al-Saghir ... The original story - A Synopsis
The Little Lantern is a story about a king who dies, leaving his only daughter an heiress to the throne. He leaves his will with the wise man in the castle, which instructs his daughter that in order to become the queen of the kingdom, she has to bring the sun into the castle before the candle melts. The princess, being young, thinks that she would be able to catch the sun and carry it on her back to the castle. She tries many ways, but to no avail. She later locks herself in her room, and on the eighth day, finds a note under her door, saying that by locking herself in, she will never find a solution. She tries to find out who wrote the note, but fails. Then one night, an old man carrying a lantern knocks at the gates of the castle, but the head of the guards forbid him entry, to which he says, "If you do not allow an old man with a lantern to come into the castle, how do you expect the sun to enter." The princess hears of this, and immediately orders the head of the guards to find the man. Not knowing who it was, they ordered all those people carrying lanterns in the kingdom to come forth. Thousands of people flock to the gates, which were too small to allow all those people in. This forces the princess to order the tearing down of the walls, allowing entrance to the people. When all crowd in, the light emanating from the lanterns is brighter than the sun's light, and as such the sun enters the castle. With the bricks of the walls, schools, and hospitals are built, and the kingdom becomes a happy nation.
Media reports on al-Fawanees Musical
Washington Report on Middle East Affairs
Cast List
The Princess
Zeina Osama Amr
Christina Georgios Stavridis
The Nanny
Hanine Emad Omari
The Royal Court
Carmel Ameen Ghoul
Christine Rimon Makhlouf
Hala Odeh Turjman
Zeina Suhail Khoury
Ula Sabri Baraghithi
Mai Ibrahim Mourad
Shadan Tawfiq Nassar
Mira Sam'an Makhlouf
The Wise Man
Ali Adnan Amr
The Old Man
Jalal Nader Jalal
Ivan George Azazian (sub.)
Head of Guards
Milad Mohmmad Al-Zaghari
Majd Emad Mizro
The Guards
Anas Mohammad Izhiman
Anis Riyad Hashweh
Al'a Raja Ishaq
Bashar Said Abu Hwaij
Karim Issa Harami
Jack Gabriel Zreineh
Omar Naser Jarar
Michael George Rishmawi
Nadim Burhan Al-Ayasa
Zayne Mashhour Abudakka
Buffoon
Melkar Edward Muallem
The People
Abeer Suleiman Ghosheh
Ashtar Edward Muallem
Christos Georgios Stavridis
Claire Bero Ghazzawi
Dina Sani Meo
Haya -Yasmeen Yousef Nasser
Ibrahim Bassem Sweiss
Issam Bassam Rimawi
Khoulud Ihab Sabbara
Laith Ziad Bandak
Majd Muhiddin Al-Hidmi
Maria Georgios Stavridis
Maya Farid Handal
Mohammad Muhiddin Al-Hidmi
Mohmmad Saeb Totah
Najla Othman Abdillatif
Nihad Issa Azar
Nour Maher Nabulsi
Rand Rashid Jarallah
Reem Jamil Tarayra
Salam Ziad Al-Bandak
Saleh Othman Abdillatif
Sally Samir Kandah
Sameer Saliba Wahhab
Samira Abd Al-Salam Kharroubi
Steve Michael Bahbah
Tamam Nizar Nofal
Tamara Mounir Kleibo
Thaer Samir Ju'beh
Wa'd Awni Al-Wa'ri

The Young Sound Forum of Central Europe Orchestra
Andrew Kirkman – violin*
Angela Symalla - bassoon
Annette Böhm - violin
Christina Sampson – viola*
Claudia Sautter - clarinet
David Rohde - violin
Emiko Kojima – flute*
Fabiola Ojeda - cello
Felix Goldbeck - oboe
Felix Korinth - viola
Helmut Pöhner - trumpet
Ibrahim Atari – qanoun**
Johanna Franz - violin
Johanna Wessel - violin
Johannes Hofmann - clarinet
Juan Igancio Lopez - cello
Julia Breuer - flute
Manuel Kastl - violin
Manuel Rettich - percussion
Marius Gussmann – double bass
Max Riefer - percussion
Mohammad Amro – viola**
Nizar Rohana – oud**
Priscila Simeoni - violin
Rafael Bölinger – French horn
Raffael Staschik - bassoon
Rami Washaha – buzuq**
Ramona Schuh - trumpet
Shannon Tellex – viola*
Simon Mattmüller – French horn
Sonja Hampel - oboe
Tareq Rantisi – percussion**
Valentin Steckel - viola
Youssef Hbeisch – percussion**

*Guest Musicians
**Palestinian Musicians
Suhail Khoury - Composer, Producer and Choreographer
The General Director of the Edward Said National Conservatory of Music in Palestine, Khoury was born in Jerusalem in 1963. He studied music at the University of Iowa in the United States. Khoury has had major accomplishments in the fields of music in Palestine. He was one of the founders of the Edward Said National Conservatory of Music, as well as Yabous Productions, The Popular Art Center, and the Network of Art Centers in Palestine. Khoury has held several senior positions: he has been the artistic director of the El-Funoun popular dance troupe, director of the Popular Art Center, general director of the Palestine Festival for music and dance, director of the department of music and dance at the Palestinian Ministry of Culture, and general director of the Jerusalem Festival. Khoury's discography includes "Marah" (1987), "Marj Ibn Amer" (1989), "Ashiqa" (1995), "Matar" (1998) and "Bass Shwai," (2003) both CDs for children.


Wasim Kurdi - Lyrics and Script
Poet and scholar, Wasim Kurdi was born in Jerusalem and has written several volumes in poetry and prose. He has accompanied El-Funoun Dance Troupe since it was established and helped in writing the scenography for many of the works for their productions such as Folkloric Portraits - Wadi Al-Tuffah, Masha'al and Marj Iben Amer. He also wrote Jbeineh for the First Ramallah Group and lyrics for other plays and for Washem, a musical group that was established in 1994. Kurdi has published books on creative writing and drama as well as several studies in literary and artistic criticism, and was the editor in chief of the Al-Kateb magazine. He currently works at the A.M. Qattan Foundation in Ramallah.
Fernando Nope - Director
Fernando Nope was born in Bogotá, Colombia in 1959. He has a lot of theatrical experience in Latin America, Europe and the Middle East. He currently resides in Stockholm, Sweden, where he concentrates on teaching Musical drama and Acting to Scandinavia's largest school of Performing Arts. Every year he directs several plays and musicals for both students and professionals alike. His relationship with the Palestinian Theatre started in 2001, where he worked with Ashtar Theatre as a Drama teacher in their program "Drama Teachers Training."
Bishara Khell - Orchestration
Born in Nazareth in 1968, he studied music composition and conducting at the Jerusalem Academy for Music. He wrote several works for orchestral theater and film musicals. Many of Khell's works were performed abroad in places such as New York and Seville. He currently works as director of a company for computer programming.
Hania Soudah-Sabbara - Choir Conductor
The dream becomes a reality and music is the essence of life. This is the belief that drives Hania Soudah-Sabbara to excel in her chosen mission. Born in the Old City of Jerusalem, she received her degree in Music Education from the Rubin Academy of Music and Dance in Jerusalem, and currently teaches at the Magnificat Institute School of Music in the Old City of Jerusalem. She continues to realize her dream and brings music to all interested and even those who are reluctant to admit that music is a part of their life. She founded more than one children's choir such as the "Zahr ArRayhan" in Bethlehem, St. Joseph's Girls School, "Yasmine" Choir in Jerusalem, St. Joseph's Girls School, and conducted "Shams", the children's choir of the ESNCM, the Custody Choir of the Holy Land in Jerusalem, and the Franciscans' St. Savior's Convent which participates in all High Masses throughout the year.
Edward Muallem - Assistant Director
Born in Mi'ilya village in the Galilee, Edward Muallem received his BA degree in Theatre from the Hebrew University in Jerusalem in 1980. He was one of the founders of the El-Hakawati Theatre and the Al-Nuzha El-Hakawati Theatre in 1984. He worked with the El-Hakawati Theatre as an actor in all of its productions until it was dissolved in 1990. In 1991, Muallem and actress Iman Aoun formed "ASHTAR" for Theatre Production and Training in Jerusalem and Ramallah. He currently is the general director of Ashtar, as well as an actor and drama trainer in various institutes in Ramallah.
Christoph Altstaedt - Conductor
Christoph Altstaedt was born in 1980 in Heidelberg. He studied piano from 1998 to 2000 at the Academy of Music in Hannover with Prof. KarlHeinz Kämmerling and Vassilia Efstathiadou, then in 2001 with Prof. Jean-Efflam Bavouzet at the Music Academy in Detmold, where he also started studying conducting in 1997 with Prof. Joachim Harder. In 2002 he continued his studies at the "Hanns Eisler" Academy of Music in Berlin with Prof. HansDieter Baum. In 2000 he founded The Young Sound Forum of Central Europe. Since 2002 Christoph Altstaedt has conducted the following professional Orchestras: The Berliner Sinfonie Orchestra, The Nürnberg Symphony Orchestra, The Beethoven Orchestra Bonn and The Berlin Symphony Orchestra. He was admitted to the Deutsche Musikrat Forum of Conductors in 2003 and works as the assistant conductor of The German National Youth Orchestra.