The Palestine Youth Orchestra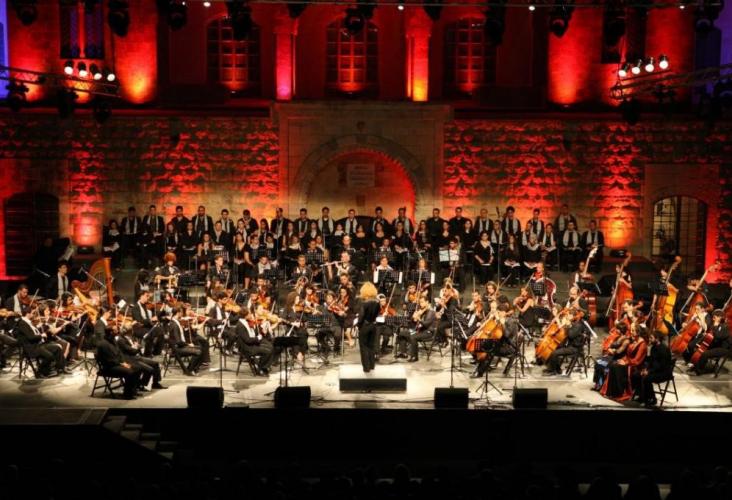 The Palestine Youth Orchestra (PYO) was created in 2004 by the ESNCM with the vision of bringing together young Palestinian musicians from around the world. The orchestra can rightly claim today that it is a quality national youth orchestra on a par with similar ensembles worldwide. Over the past ten years it has performed in Palestine, Germany, France, Jordan, Syria, Bahrain, Lebanon, Greece and Italy. The PYO comprises around eighty young musicians of Palestinian origin residing around the world. 
 
PYO musicians meet annually for a one-week residential course followed by a concert tour. From year to year, a different country is chosen for the residential course and the orchestra invites, alongside the young musicians of Palestinian origin, 10 to 15 young guest musicians from music institutions or youth orchestras of the hosting country. Students are coached by musicians who perform and teach with leading ensembles and music conservatoires. Recent guest tutors have come from the likes of English National Opera, Valencia Opera House, Qatar Philharmonic and the London Symphony Orchestra. Since 2012 the ESNCM has developed a partnership with the Oslo Philharmonic which entails having members of the prestigious Norwegian orchestra as coaches for the sections of the Palestine Youth Orchestra.
Conductors who have directed the PYO include Sian Edwards, Tom Hammond, and Nicolas Simon. Among the distinguished soloists that have performed with the PYO are Marcel Khalife, Dima Bawab, Ahmad Al Khatib, Reem Talhami, Rim Banna, Alexander Suleiman, and Saleem Abboud Ashkar. The orchestra is dedicated to promoting the work of Palestinian and Arab composers, alongside well-known standards of the Western symphonic repertoire. Recent concerts have showcased music by Marcel Khalife, Salvador Arnita, Kinan Azmeh, Naji Hakim, and the Rahbani Brothers.
The PYO is always keen to hear from young Palestinian musicians residing around the world. Applicants should be of Palestinian origin, between 13 – 26 years of age, and be able to perform to at least grade 7 (ABRSM), on an orchestral instrument. Auditions are usually held in February/March. To join the orchestra, an online application must be completed. All expenses related to the orchestra members' participation in the PYO (tutoring, travel, accommodation, meals) are covered by the ESNCM, with the exception of a registration fee. Scholarships are available for students who are unable to pay the fee. 
 
All enquiries regarding musical repertoire, performances, collaborations and exchanges with other musical institutions, or participation in the PYO either as a student or instructor, should be directed to Ms. Zeina Khoury- Orchestra Manager: 
zkhoury@ncm.birzeit.edu
, +972 (0)2—2819156.
Concerts