The Palestine National Orchestra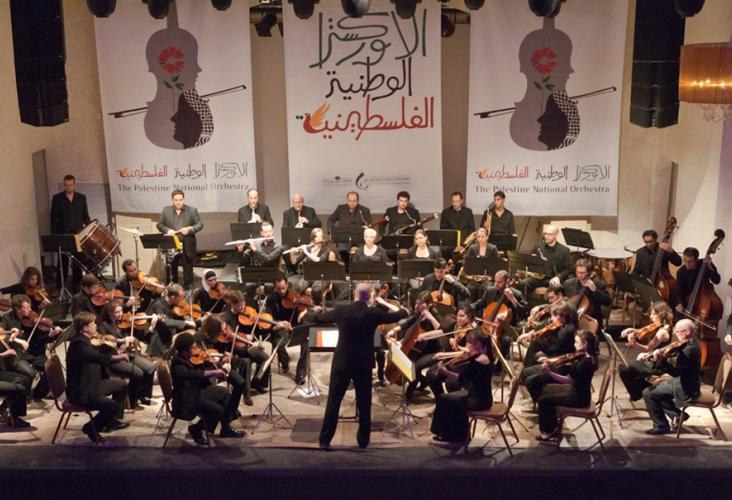 The Palestine National Orchestra (PNO) is the zenith of the ESNCM's orchestral vision, and the fruit of an incremental approach which has been propagated and nurtured since the establishment of the conservatory in 1993. Starting with ensembles for young students of the ESNCM, then the ESNCM Orchestra for the Conservatory's advanced students, followed by the Palestine Youth Orchestra which caters to Palestinian young musicians from around the world, the PNO is the natural next step. Young Palestinian music students are growing up and going into the profession, seeking performing opportunities as well as a sense of belonging and contribution to their homeland, and experienced Palestinian professionals who live in the diaspora have for years dreamed of a national orchestra to call their own. Palestine, like any nation, merits a professional national orchestra, to delight audiences at home and to represent it proudly on the international stage.
The PNO made its debut concert on New Year's Eve 2010, in the Ramallah Cultural Palace. The Swiss conductor Baldur Brönnimann and Palestinian-Japanese soprano Mariam Tamari joined the orchestra in a programme including music by Ligeti, Mozart, Beethoven and the Palestinian composer Salvador Arnita. Every seat in the auditorium was taken, while hundreds more watched the concert from screens erected outside the hall. The orchestra then defied Israeli travel restrictions to perform in Jerusalem and Haifa on 1st and 2nd January. The inauguration of the PNO was full of emotion and fraught with challenges. Obstacles created by the occupying authorities made the realization of this unique project uncertain until the last minute, but perseverance, determination and creativity led to its successful launch. After its debut performances in Palestine, The PNO's international tours have included Jordan and Indonesia.
The Palestine National Orchestra members are professional musicians of Palestinian origin, as well as internationals with connections to Palestine. They include musicians working in orchestras and opera houses, freelance instrumentalists, studio musicians, and professors teaching at music schools across the world. PNO musicians can be found living in Palestine, the wider Middle East, and worldwide among the Palestinian diaspora. They include musicians who have performed in orchestras such as the Los Angeles Chamber Orchestra, Qatar Philharmonic, San Antonio Symphony, Royal Philharmonic Orchestra, Amman Symphony, Sarasota Symphony, Philharmonia Orchestra, Netherlands Radio Orchestra, San Diego Symphony, Berlin Konzerthausorchester and Cairo Opera House. Many of the younger players were previously members of the Palestine Youth Orchestra (PYO), before joining the PNO.
The PNO is currently a festival chamber orchestra, meeting once or twice a year to bring high quality professional music making to Palestinian communities, and providing an international platform to promote Palestinian cultural achievements worldwide. The PNO has been honored to have been led by conductors Baldur Bronnimann, Matthew Coorey, and Elena Schwarz, and to have illustrious musicians including Wissam Boustany, Mariam Tamari, Dima Bawab and Kinan Azmeh appearing as soloists.
Membership of the PNO is by invitation of the ESNCM. All enquiries related to performing with the orchestra, concerts or touring should be directed to the conservatory.
For more information please contact Ms. Zeina Khoury - Orchestra Manager at zkhoury@ncm.birzeit.edu; tel: +972(0)2-2819156
Concerts
New Year Concerts 2016/17 in Palestine
| | |
| --- | --- |
| Bethlehem Convention Palace | |
| Naseeb Azeez Shaheen Auditorium / Birzeit University | |
| Prince Turki Bin Abdel Aziz Auditorium / Al-Najah National University, Nablus | |
Conductor:
Vincent De Kort
Soloists:
Simon Shaheen - Oud
| | |
| --- | --- |
| | Symphony No. 1 in D Major (Classical Symphony) |
| | Concerto for Oud and Orchestra in C minor |
| | Symphony no. 6 in F, Op. 68 (Pastoral Symphony) |
PNO with ESNCMO, Palestine 2016
| | |
| --- | --- |
| Bethlehem Convention Palace | |
| Al-Najah National University Auditorium, Nablus | |
| Naseeb Aziz Shaheen Auditorium / Birzeit University | |
Soloists:
Mohamed Najem, clarinet, Dima Bawab, soprano
| | |
| --- | --- |
| | Overture to Suite "à Jean Huré" |
| | O mio babbino caro from "Gianni Schicchi" |
| | Quando m'en vo from "La Bohème" |
| | |
| | Images of Palestine, from Suite no. 4 "Oriental Sketches" |
| | |
| | |
2013 in Indonesia
| | |
| --- | --- |
| Aula Simfonia, Jakarta (Indonesia) | |
| Aula Simfonia, Jakarta (Indonesia) | |
Conductor:
Matthew Coorey
Soloists:
Mariam Tamari (soprano) , Wissam Boustany (flute), Kinan Azmeh (clarinet)
| | |
| --- | --- |
| | Symphony No. 41, "Jupiter" |
| | Non si da Follia Maggiore |
| | |
| | "... And the Wind Whispered ..." |
| | |
| | |
2012 in Palestine and Jordan
| | |
| --- | --- |
| Ramallah Cultural Palace, Ramallah (Palestine) | |
| Al Hussein Cultural Centre, Amman (Jordan) Televised - Roya TV | |
| Al Hussein Cultural Centre, Amman (Jordan) | |
Conductor:
Matthew Coorey
Soloists:
Alexander Suleiman (violoncello), Kinan Azmeh (clarinet)
| | |
| --- | --- |
| | |
| | |
| | Cello Concerto in A minor, Op. 129 |
| | Symphony No. 35 "Haffner" |
| | |