History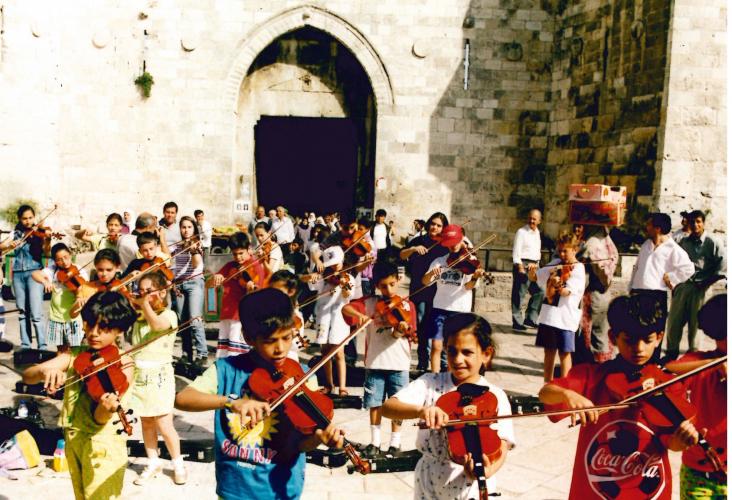 In 1990, a small group of Palestinian musicians came together to look at the situation of music and music education in Palestine. There were many pockets of talent and activity in several genres, including folklore music, Arabic art music and Western classical music, but there was no central body channeling musical talent and strategizing for the future. Recognizing this, they decided to establish a music school. Over the next three years, the ground was prepared, and in 1993, the National Conservatory of Music was launched. Initially under the wing of Birzeit University's board of trustees, the Conservatory set up its first branch in Ramallah. Forty students were enrolled alongside three part-time teachers, a secretary and a volunteer director.
Gradually new branches were established: Jerusalem in 1996, Bethlehem in 1997, Nablus in 2010, and in 2012 the Gaza Music School was incorporated. In 2017 the Tchaikovsky Music School in Bethlehem became the sixth branch of the ESNCM. Today, more than a thousand students are enrolled within the different branches and another 580 are in children's choirs.
In September 2004, as a tribute to the invaluable intellectual and cultural contributions to humanity of the late Dr. Edward Said, an honorary member of the Board, the name of the Conservatory was officially changed to The Edward Said National Conservatory of Music.
The Conservatory launched its first concert series in the spring of 1998, and graduated its first students in 1999. The second Palestinian Intifada broke out in October 2000, but despite the hardships of that time, several exciting projects came to fruition. Its first CD was released in 2000; in 2001 the Marcel Khalife Music Competition was held for the first time, initially as an internal project, but soon becoming the Palestine National Music Competition; and 2003 witnessed the launch of the Conservatory's annual music summer camps.
Creating student and professional ensembles has been integral to the work of the ESNCM since its inception. After the achievement of ensembles such as the Oriental Music Ensemble and the ESNCM Orchestra, in 2004 the ESNCM began to develop its flagship orchestras and ensembles, after eleven years of investment in fostering musical ability. The Palestine Youth Orchestra was formed in that year, followed by Palestine Strings in 2009, Maqamat al-Quds and the Palestine National Orchestra in 2010, and Banat al-Quds in 2013.
Learn more about Our Approach.