Music Camps and Summer Programs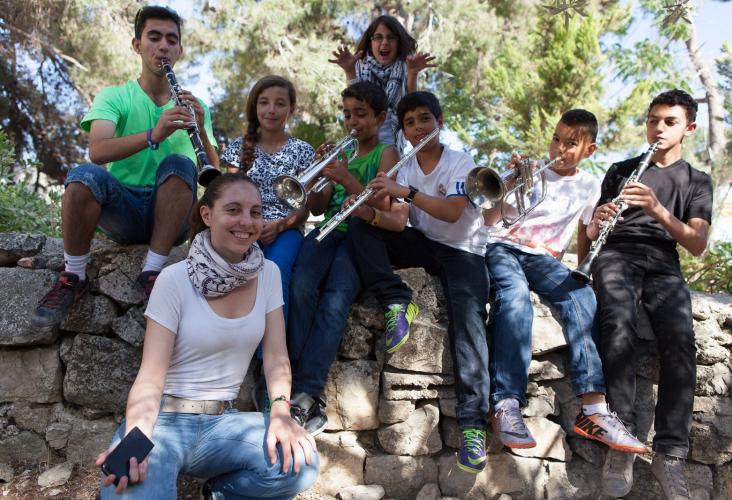 Music Camps
The ESNCM organizes several week-long summer camps in July at the Activities Center in Birzeit, 12 kilometers North West of Ramallah. Some focus on chamber music, Arabic music ensembles and Jazz Band, while others revolve around a particular orchestra project such as the Palestine Youth Orchestra, and there is a special annual camp for the students of the Outreach Program. The camps target mainly ESNCM students between the ages of 9 and 25, and also welcome guest students from other conservatories in Palestine and participants from international partner institutes. Apart from the high quality musical experience of the camps, they are also wonderful opportunities for students of the different ESNCM branches to meet, make new friends and renew bonds formed in previous years. This is especially important given the travel restrictions imposed on Palestinians by the occupation, which makes moving around the country difficult and at times dangerous.
Staff include regular ESNCM teachers and specially invited guest tutors from around the world. Students take individual lessons and master-classes, participate in workshops to develop their musicianship, and have intensive tutored ensemble rehearsals. Options such as composition and recording technology workshops are available in some of the camps, in addition to a number of recreational and sports activities for participants. A nightly concert is performed by teachers and students, and there is a final concert for parents and friends to attend at the end of the camp.
In addition to the summer camps, the ESNCM organizes occasional winter camps in early January, which mainly focus on projects of the ESNCM Wind Band and Jerusalem Children's Orchestra. Several days of concentrated rehearsals are followed by a joint concert tour by the two ensembles. There are also mini-camps throughout the year, where a particular musical workshop is held over a long weekend.
Summer Programs
In the summer months the conservatory runs several different summer programs in its branches. These vary from year to year in content and structure, but often include intensive lessons for our existing students who wish to enrol; a program of taster lessons for young children who would like to try out different instruments; and a kindergarten program especially for children aged 5 - 6 where they can experience a wide range of fun musical activities.