Mariam Tamari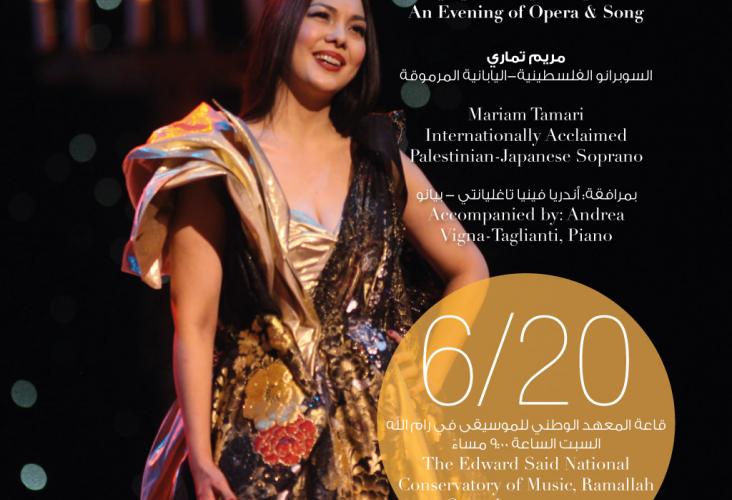 Mariam TAMARI - Soprano
Born to a Palestinian father and Japanese mother, Mariam Tamari has been making international headlines representing Palestine as soloist since the historical debut of the Palestine National Orchestra in
2010. In October 2013, she was the guest of honor at the 25th Anniversary Gala of the Cairo Opera House in October, simulcast in several countries. Acclaimed by critics for her "crystalline voice", "profound
expression", "virtuosity" and "polished technique", she has performed for the Emperor and Empress of Japan and two Prime Ministers of Japan, as well as the King and Queen of Jordan.
Mariam made her lead operatic debut as Adina in L'Elisir d'Amore at the Nissay Theater in Tokyo, where her skills as an actress were also acclaimed as Jeanne in Honneger's Jeanne d'Arc au Bûcher with conductor Hiroshi Wakasugi. She has performed as soloist with major orchestras in Europe, Asia, the Middle East and the U.S., singing the solos in Orff's Carmina Burana, Brahms' Ein Deutsches Requiem, Mozart's Requiem, Vesperae Solennes de Confessore, Exsultate Jubilate, Vivaldi's Gloria, Schubert's Messe G-Dur, and Handel's Messiah, among others. Along with recitals in Japan, the US, Indonesia, Italy, Switzerland, and France, recent highlights also include a concert at the Cadogan Hall in London with tenor Sir Dennis O'Neill, a concert at the Auditorio Ibirapuera in São Paulo singing Bachianas Brasileiras, as well as with the Jakarta Philharmonic in Indonesia for the 100th anniversary gala of the national composer Ismail Marzuki. In 2015, she is invited to sing at the Festival de Musique Symphonique in Algeria, and will tour France with the Palestine Youth Orchestra. Having graduated with honors from Bryn Mawr College, USA, where she studied philosophy and music, she is now based in Paris.
Andrea VIGNA-TAGLIANTI
Italian pianist, Andrea Vigna-Taglianti has been praised by critics for his ability to capture the audience through his unique artistic approach and extraordinary musicality. He has performed as a concert soloist and chamber musician in concert venues in Italy's major cities, the U.S.A. (with appearances at American Liszt Society – gala concerts in Boston and New York for the opening of the new Boston chapter), UAE Abu Dhabi – as "special guest" at Paris Sorbonne University, Croatia (Epidaurus Festival in Dubrovnik where he gave the world première of A. Lerda's Evoluvendo), in the U.K. at London Liszt Society and in the Holy Land with a concert tour in Jerusalem Al Quds University, Nablus Prince Turki Theatre – An Najah University, Ramallah Edward Said National Conservatory of Music Concert Hall and in Bethlehem for the closing concert of the Italian Presidency of the Council of the European Union. Some of his performances have been broadcast by radio in Italy and Croatia.
He is Founder and the Artistic Director of the "Steinway Society-Piemonte and Valle d'Aosta" (the second Steinway Society ever founded in Europe). Mr. Vigna-Taglianti has been the winner or finalist of national and international piano competitions and in 2008 he received the "Premio Ghedini," presented to him by the composer's daughter "for the high artistic level achieved by his interpretations". He was also judged as "best performer" and asked to perform in concert by Maestro Leslie Howard during an international course of studies on Liszt's works that he attended as the winner of a scholarship promoted by the Prime Minister of Italy in collaboration with the Young Italian Artists' Association. He has been a member of the jury for the "Alpi Marittime" international music competition, "Sartirana Lomellina" national competition in Italy and the "Nicolaus de la Flue" piano competition in Jerusalem.
Mr. Vigna-Taglianti graduated with highest honors from the Italian State Conservatory "G. Cantelli" in the Second Level Piano Solo Course for post graduates (the highest possible piano performance degree in Italy). He took further studies in Milan where he graduated at G. Marziali Academy of Music with Maestro Bruno Canino, and in London with Leslie Howard. He participated in master classes with teachers like Lazar Berman, B. Ganz (Peabody Conservatory), A. Lucchesini, N. Sugiura (Indiana University), T. Poli, A. Tessoni, M. Genot, A. Commellato.
His teaching experience includes the Scuola di Alto Perfezionamento Musicale di Saluzzo, G.F. Ghedini State Conservatory in Italy and the International Music Institute and the British International School in Abu Dhabi. His current position is now at The Edward Said National Conservatory of Music. Mr. Vigna-Taglianti holds a diploma cum laude in music therapy from a four-year course in Assisi, with a specialization in Musicoterapia Didattica with Dr. Rolando Benenzon of Buenos Aires. He also has a diploma for a biennial course in Biomusica and Musicoterapia Evolutiva. Mr. Vigna-Taglianti has completed his research of the music and the life of Giuseppe Antonio Unia, pianist and composer at the royal Italian palace during the second half of the 19th century, published from Turin University Press "Studi Piemontesi". He is now recording his second cd for Sheva Collection label with music of Unia in world premiere.
Program
Georg Friedrich Handel Va, Godendo (from Serse)
V'adoro Pupille (from Giulio Cesare)
Ombra Mai Fu (from Serse)
Rejoice Greatly (from Messiah)
Wolfgang Amadeus Mozart Alleluia (from Exsultate, Jubilate)
Gioacchino Rossini Non Si Da Follia Maggiore (from Il Turco in Italia)
*** INTERVAL ***
Giacomo Puccini Tu Che Di Gel (from Turandot)
Quando m'en Vo (from La Boheme)
Charles Gounod Je Veux Vivre (from Roméo et Juliette)
Gustave Charpentier Depuis le Jour (from Louise)
George Gershwin Summertime (from Porgy and Bess)
Giuseppe Verdi E Strano~Sempre Libera (from La Traviata)